Ride on toys are a great way to keep your little ones entertained. Even better, they're an excellent option for developing your child's physical dexterity and imagination.
There are many different kinds of ride on toys, like police cars, trucks, and tractors! Ride on tractors provide an outlet for children to develop skills while also preparing them for working in the real world.
Some are battery powered, while others use pedals. There are also tractors with trailers for hauling, or front loaders for transporting dirt or rocks.
With countless options for a ride on tractor, you may be scratching your head wondering which one to choose.
We decided to search for the best ride on tractors for kids out there and test them ourselves! Here are 6 of our favorites.
*This post may have affiliate links, which means I may receive commissions if you choose to purchase through links I provide (at no extra cost to you). As an Amazon Associate I earn from qualifying purchases. Please read my disclaimer for additional details.
Our Top Picks
How We Narrowed Down the Best Ride On Tractor
Finding the best ride on tractor was no easy task, but with a few guidelines we found many great options.
We first decided to take a look at some of the best brands to see what made their ride on tractors so great.
We came across brands like Costzon who offer some of the best affordable toy products available.
We also found other amazing brands such as TOMY and Little Tikes, who also offer some pretty spectacular choices for ride on toys! 
By studying these brands we were able to narrow down the criteria for great ride on toy products. This same criteria was used when we decided to review these products ourselves.
There are many factors that play into making a worthy ride on tractor. However, for these in depth reviews we'll be providing, we mainly focused on safety, durability, and quality.
We know how important it is that the little ones remain safe while having fun. We also believe a toy should be hard wearing to hold up to rambunctious kids.
Finally, if you're spending good money on a product it should work properly and entertain well! Initially, we found about 10 great products with potential for being the best ride on tractor.
Ultimately, through careful consideration, 6 of the best ride on tractors made it on the Top Picks list!
Here's our in depth review of 6 of the best ride on tractors for kids, and 4 honorable mentions that almost made the list.
Best Ride On Tractors for Kids Reviewed
1. Best Overall:

Costzon Ride on Tractor With Trailer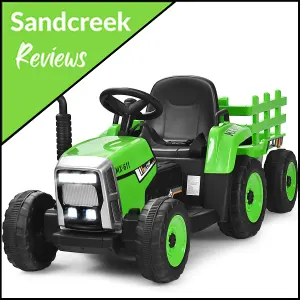 Product Ratings
| | |
| --- | --- |
| Affordability | 4.5/5 |
| Safety | 5/5 |
| Sturdiness | 4.5/5 |
| Quality | 5/5 |
Features | Brand: Costzon | Size: 53" x 20" x 20.5" | Weight: 29 lbs | Color: Green, Red | Power: 12v Battery | Material: Polypropylene, Iron 
What We Liked
Parental Remote Control
Soft Start Technology
Improved Safety Features
Includes 2 speeds
What We Didn't Like
Remote Control Lacks Quality / Durability
When we tested the Costzon Ride on Tractor with Trailer we knew it had to be our top choice for best ride on tractor! Here's how this product made the top of the list:
Durability
For durability we didn't have too many complaints about this product. We found that it was mostly able to handle normal use every day. 
One thing we did notice however, is that the remote control which comes with the tractor lacks durability. 
It didn't seem to be very well made, but did function well. We found that the remote couldn't handle a few falls to the ground. Luckily, it's usually the adult using this feature so it shouldn't be much of an issue.
Safety
Many of the ride on tractors on our list have awesome safety features. This tractor has safe start technology.
This means the tractor accelerates slowly so as not to lurch forward abruptly. Furthermore, the tractor features 2 speeds.
This is great as the lower setting allows the child to become accustomed to the ride. This ride on also has a wide seat, safety belt, and armrests for improved safety.
Quality
We absolutely loved the quality of this tractor! We noticed it had treaded tires to add a better grip to the ground. Furthermore, we appreciated the LED lights for improved sight at night. 
With a detachable trailer, kids had a blast cruising about or lugging around their favorite toys, books, or even rocks!
The ride on is battery powered and features 2 powerful motors. This means a great long life full of many happy tractor rides for the little ones.
Here's some further reading to understand the importance of play for children.
---
2. Runner Up:

Peg Perego John Deere Tractor with Trailer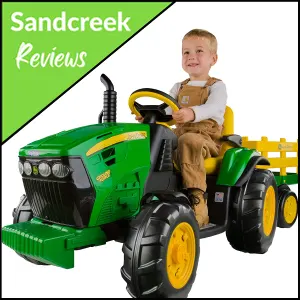 Product Ratings
| | |
| --- | --- |
| Affordability | 4/5 |
| Safety | 5/5 |
| Sturdiness | 5/5 |
| Longevity | 4.5/5 |
Features: | Brand: Peg Perego  | Size: 24.5" x 26.5' x 67.5" | Weight: 50 lbs | Color: Green | Power: 12v Battery | Material: Plastic
What We Liked
Seller website offers replacement parts
Assembly is feasible
Great for ages 2-6
Speed locking feature
What We Didn't Like
Radio doesn't work sometimes
Battery recharge takes some time
This brand offers an amazon John Deere tractor option. You'll get the quality of John Deere in a kids toy!
Durability
For starters, this toy isn't small, in fact it's 50 pounds! It was definitely able to hold up to typical kids play. Due to its size and durability we found that kids of many ages were able to enjoy this toy. 
We found children ages 2 up to about 7 years old could use this ride on with ease. If you're wondering if your child is ready for a ride on toy, take a look at this article by Parents.
Safety
This tractor has an adjustable seat to help your little ones reach the controls and sit more comfortably.
This is great as the tractor "grows" with your child! We also noticed it has flip up arm rests to keep the little ones safe!
There are two speeds that are perfect for all ages. If you would like to lock the speed there is a feature for that as well.
Perfect if you don't think the child's quite ready for the 4 ½ mph fast speed yet!
Quality
We loved many features of this tractor. For example, it has a working FM radio. Well, it worked most of the time at least, but it was still pretty cool, and the kids seemed to enjoy it.
We also noticed how kids could easily recognize this tractor as a John Deere and felt a sense of pride in using the same brand as the adults. Plus it came with that John Deere quality us adults love!
The trailer on the back was made with quality in mind and kept children happy as they carried around all sorts of items, big and small!
We felt as though the battery life was sufficient but took quite a while to recharge. While we're on the topic of batteries, did you know we have a list of the best batteries for tractors?
---
3. Best for Safe Tractor:

TOBBI Tractor With Trailer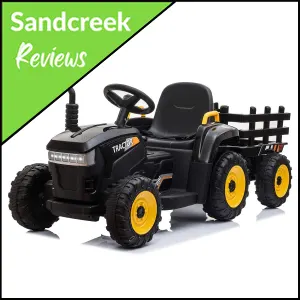 Product Ratings
| | |
| --- | --- |
| Affordability | 4.5/5 |
| Safety | 5/5 |
| Sturdiness | 4.5/5 |
| Quality | 4.5/5 |
Features: | Brand: TOBBI | Size: 54" x 20" x 21" | Colors: Dark Green, Black, Green, Red, Rose Red (Pink) | Power: 12v Battery | Material: Polypropylene, Iron
What We Liked
USB or Bluetooth Audio Input
Handrails, Safety Belt, and Battery Display
Long Battery Life
Great for new and skilled drivers
What We Didn't Like
Quality Control Issues
USB option doesn't have much of a range
TOBBI tractor with trailer is an affordable tractor option that keeps child safety and happiness a priority! So, what caught our eye about this product?
Durability
Yet again, we have another tractor that fared well when it came to durability. We didn't find many issues when it came to the strength and resilience with even the roughest playing kids.
Safety
This tractor ranked high when it came to safety! This is due to the many safety features keeping your child secure. For instance, it comes with a safety belt attached. 
It also has handrails to help your child get on and off the toy. Once again, this product has 2 speeds, making it perfect for beginners and skilled mini drivers alike!
Quality
We'd like to mention some neat features for this tractor! First, it has an LED battery indicator that lets you know when it needs to recharge.
This is helpful not only to adults, but also to children as it helps them understand when play time with the toy is almost over. 
It also accustoms them to learning how to read and understand a gas gauge, which is useful for the real world. It also has an option for USB or Bluetooth audio input.
Although we found that the bluetooth feature doesn't have very far range. We loved how this tractor was available in an assortment of colors! We did experience a few issues with quality control for this product.
A few tractors stopped working properly, or wore out easier. However, customer care was helpful and responsive!
If you love tractors as much as the little ones, be sure to check out our article on different types of tractors!
---
4. Best for Remote Control Tractor:

Sopbost Ride On Tractor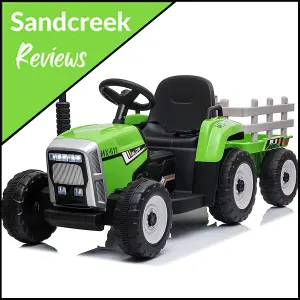 Product Ratings
| | |
| --- | --- |
| Affordability | 4.5/5 |
| Safety | 4.5/5 |
| Sturdiness | 4.5/5 |
| Quality | 4.5/5 |
Features: Brand: Sopbost | Size: 53.7" x 19.67" x 10.67" | Weight: 28.2 lbs | Colors: Green, Orange, Blue, Red | Power: 12v Battery | Material: Polypropylene
What We Liked
Parental Remote Control
Bluetooth Features
Safety Features
LED lights for night safety
What We Didn't Like
Quality Control Issues
Some pedal Issues
Looking for an affordable, but fun ride on tractor both you and the tykes can control? This tractor from Sopbost is a stellar choice!
Durability
We were mostly pleased with the performance of this tractor.
During testing, (and by that we mean while kids played) we noticed this tractor could handle weight up to about 70 lbs, allowing a wider range of kids to enjoy. 
When it came to any rough play, or crazy driving of high speeds up to 5 mph this tractor could handle it quite well!
Safety
This ride on tractor had some pretty standard safety features. There's a seatbelt to keep the child secure, as well as LED lights for improved vision in the evening.
A really unique feature we found was the gear lock option. By pressing P on the remote you are able to stop the tractor from moving forward. 
This gave us peace of mind especially with yards near roads, or without fences. While none of these tractors are very fast, you never know when you may need the child to stop.
Quality
On top of the awesome gear lock, this tractor had some cool features. For example there is a bluetooth option that works pretty well. 
Also, the remote control feature for this was awesome and allowed adults to join the fun. We felt the range for the remote control was sufficient, as well!
We did run into one or two quality control issues, but customer care was very responsive.
---
5. Best for Pedal Tractor:

Tomy John Deere Pedal Tractor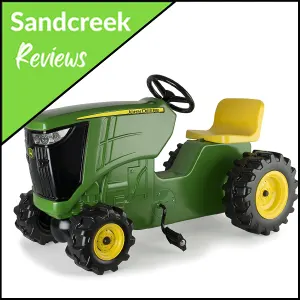 Product Ratings
| | |
| --- | --- |
| Affordability | 5/5 |
| Safety | 4.5/5 |
| Sturdiness | 4.5/5 |
| Quality | 4.5/5 |
Features: Brand: Tomy | Size: 38" x 13 x 19.25"  | Weight: 19.4 lb | Color: Green | Power: Pedal | Material: Plastic
What We Liked
Adjustable Seat
Great for Physical Development
Easy to Pedal, Scoot, or Push
Strong materials
What We Didn't Like
Issues with Chain
Not as many safety features as others
Here we have another reputable brand, TOMY provides a pedal tractor great for physical development! Here's a little information on how ride on toys are good for development!
Durability 
Built with John Deere toughness, this pedal tractor was made to last. It showed great resilience to every day play, and could handle some strong pedallers.
Speaking of John Deere we have an awesome article that will tell you all about where John Deere tractors are made!
We observed this pedal tractor was best for children ages 18 months and up, with a weight up to about 60 pounds.
Safety
With this being a pedal tractor, we knew it wasn't going to have the same safety features as others on our list. 
Instead we took note of the steering of the tractor, we felt comfortable with how it handled, and didn't worry about children crashing or steering.
Even if the little ones couldn't quite use the pedals, they were easily able to push or scoot themselves around!
Quality
Given the price point we found this ride on to be of good quality. We felt the material was made well, and showed strength.
The color and details proved great care was taken in making the product. We did hit a slight snag with this product, however it was mostly user error.
There were a few cases where the chain for the pedals popped off during use. 
After some troubleshooting we came to realize you must be very careful, and take your time when setting up the chain.
You must ensure the correct amount of tension is placed on it. However, with a little critical thinking and patience this won't be a difficult task.
---
6. Best for Toddler Tractor:

Tomy John Deere Tractor and Wagon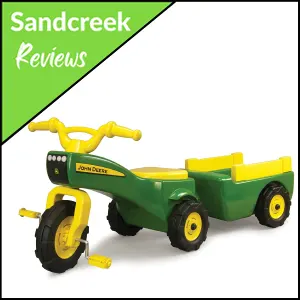 Product Ratings
| | |
| --- | --- |
| Affordability | 5/5 |
| Safety | 4/5 |
| Sturdiness | 4.5/5 |
| Quality | 4/5 |
Features: Brand: Tomy | Size: 47" x 16.5" x 18" | Weight: 10 lbs | Color: Green | Power: Pedal | Material: Plastic
What We Liked
Pedal Power (No Charging)

Easy to Assemble

Sturdy for up to about 3 years old

Great stability for 3 wheels
What We Didn't Like
Trailer Quality 

Some issues with tire durability
Coming from TOMY again, this pedal tractor is perfect for toddlers up to about 3 years old!
Durability
This was another magnificent sturdy product, it allowed children to pedal their hearts out! We noticed the wheels were durable, and could handle most surfaces like asphalt, and sometimes grass.
Safety
Oftentimes with three wheel ride on toys, there is a slight issue with stability. Turning too sharp can cause the ride to tip over.
However, we didn't find this to be an issue, especially with the wagon attached! Regardless, kids are bound to take a spill here or there no matter what they do.
But, a fall from this ride on shouldn't be too severe as it is pretty low to the ground and can't go too fast unless downhill. 
With it being lower, it's also much easier for children to get on and off without straining or falling.
Quality
The aesthetic features of this tractor were marvelous. From the perfect tractor green color, to the John Deere logos and headlight sticker detailing, kids absolutely loved it.
Now for the bad news, we noticed a small hiccup with the trailer.
The issue was that the side rails for the trailer came out easily. We wish they were more secure so kids couldn't easily tug on them and wear them out, and so we didn't have to keep replacing them.
---
Comparison Chart
| Products | Best Overall | Runner Up | Best for Safety | Best Remote Control | Best Pedal Tractor | Best for Toddler |
| --- | --- | --- | --- | --- | --- | --- |
| Overall Rating | 4.7/5 | 4.6/5 | 4.6/5 | 4.5/5 | 4.5/5 | 4.3/5 |
| Affordability | 4.5/5 | 4/5 | 4.5/5 | 4.5/5 | 5/5 | 5/5 |
| Safety | 5/5 | 5/5 | 5/5 | 4.5/5 | 4.5/5 | 4/5 |
| Sturdiness | 4.5/5 | 5/5 | 4.5/5 | 4.5/5 | 4.5/5 | 4.5/5 |
| Quality | 5/5 | 4.5/5 | 4.5/5 | 4.5/5 | 4/5 | 4/5 |
The Winner
In the end, we knew for sure Costzon Ride on Tractor With Trailer was the Best Overall pick! This ride on tractor gives children countless hours of quality fun, without putting a dent in your wallet!
How to Choose the Right Ride On Tractor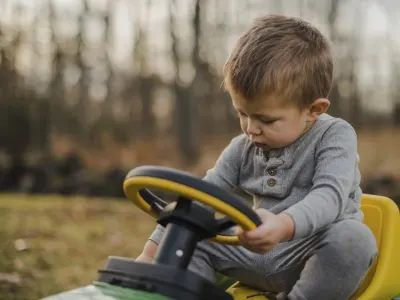 There are many aspects to look out for when trying to find the best ride on tractor!
Reading about the product on seller websites, or taking a look at reviews, can help you learn about the product before you buy it. Using the criteria we provided to judge these products is a great way to start.
What exactly does that mean though? Take a look below to see how to consider your options for a good tractor.
Affordability
Most ride on toys, especially those that are battery powered, aren't going to be cheap. That isn't quite what we mean when we say affordability however.
Of course you want to stay on budget, but you want to make sure it's a worthy purchase. 
You don't want to buy a product that needs constant maintenance or part replacement.
You also want to make sure the product is going to last awhile to get the most use out of it, and the best bang for your buck!
Safety
The last thing you want for a kid when they're having fun is an accident where they get hurt. Before you click Order on a product, make sure it ranks well in safety.
Does it have a safety belt? How fast is it able to go? Is the product known for lurching forward, or tipping?
These are just a few features to consider when looking for safety, the more safety features a ride on toy has the better!
Quality
The quality of these products we've mentioned ties in with affordability quite a bit. If you don't have a very well made product it's not going to last, and might not be worth using for children. 
See if the product is made of quality materials, and not cheaply made. If it comes with stickers or attachable parts do they stay put? 
See if all parts work properly, like the steering wheel, horn, radio, pedals etc.
Honorable Mentions
Here's a brief look at the 4 options that didn't make the best ride on tractor list!
TOMY is pretty good at supplying quality John Deere ride on tractors for kids. This product is no exception.
While this toy is great for toddlers who may not be ready for pedals, we suggest Tomy John Deere Tractor and Wagon as it's also toddler friendly, can be used for scooting, and can be pedal powered once the child is ready.
Seeing a Little Tikes toy brings such nostalgia of playing outside until the street light came on.
However, we did notice this ride on tractor didn't have that same Little Tikes quality we so fondly remember. For this reason, we recommend you go with Tomy John Deere Pedal Tractor
This is a unique option for a ride on toy as it features a front loader and a backhoe.
While we didn't feature a tractor quite like this one on our list, we included Costzon Ride on Tractor With Trailer instead. 
This was due to some functionality issues with the backhoe that we felt affected the quality severely. Costzon, on the other hand, ranked very well for quality!
Another product unlike the others on our list, this excavator from Costzon is fun for kids who like to dig. We did notice the arm was a bit loose, and sometimes it was hard for kids to maneuver.
Therefore we think Peg Perego John Deere Tractor With Trailer is the more appropriate option as it's easy to use, and functions well.