When you think of flood lights, you make think of parking lots, football stadiums, or around homes. However, another practical place for flood lighting is on the farm. 
A farmer's work begins before the sun rises, and usually lasts until after it sets.
Flood lights would be very beneficial while feeding animals, gathering tools, moving hay, and putting away tractors for the night. 
For this article, we gathered and tested the top 6 best outdoor flood lights (and 4 honorable mentions), so you can make the best choice when purchasing flood lights for a farm or ranch.
*This post may have affiliate links, which means I may receive commissions if you choose to purchase through links I provide (at no extra cost to you). As an Amazon Associate I earn from qualifying purchases. Please read my disclaimer for additional details.
Our Top Picks
How These Lights Made the Top 6
For this review, we looked at products from all across the web.
Several items had great reviews, but when considering what would be best for farming and ranching, we kept in mind a few aspects as we searched. 
We looked at smaller companies that have been around for almost 50 years such as the Amico Lighting Company and companies like Onforu, who are more recently known, were reviewed as well. 
Through our tests, we found that some had farther detection ranges than others, some used LED lighting, and some used halogen bulbs.
We also considered the expense compared to the size and wattage. After researching all of these components, we came up with the best benefits from each light and listed them here for you to see. 
For many, we had to look closely at specifics, but the Lepower Lighting Company seemed to have the best average ratings in all areas. 
Best Outdoor Flood Lights Reviewed
1. Best Overall:

LE Power 35W Security Light
Product Ratings
| | |
| --- | --- |
| Ease of Installation | 4/5 |
| Weatherproof | 4/5 |
| Brightness | 4/5 |
| Detection Range | 5/5 |
What We Liked
3-head fixture
Optical filter lense
Adjustable design
72' detection range
What We Didn't Like
Only available in white
There are cheaper options
With this product, we first noticed that it had the highest average rating with all 4 categories combined.
It's a wonderful product and very easy to install.
This is also considered to be an energy-saving light. Lepower has been in business for 5 years and ships many lighting products to the United States, Japan, and Europe.
Their items have proven to be worthy of the reviews, and they hold up well over time. These lights would work well on the sides of barns, hay traps, and silos.
They are also helpful when trying to see during those emergency, high-risk births in the middle of the freezing rain at 2:00am in the morning.
NOTE: When installing 2 of these security lights, they have to be hung at least 16.4' apart.
---
2. Best in Brightness:

Onforu 55W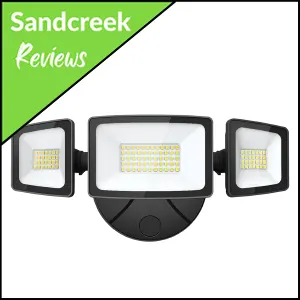 Product Ratings
| | |
| --- | --- |
| Ease of Installation | 4/5 |
| Weatherproof | 4/5 |
| Brightness | 5/5 |
| Detection Range | 0/5 |
What We Liked
Newer company with high reviews
High level of brightness
3-Head fixture
What We Didn't Like
Weatherproofing could be better
There is no motion sensor
Can only be powered by a switch
This light really stood out when it came to brightness.
Rated a 5/5, it truly will give you all the light you need. The 3 lamp heads are adjustable, and can be moved in coordinating or opposite directions.
Along with a bold bulb at 55W, this light also comes from the Onforu Company. 
At Onforu, lights are made with the loT technology, which makes them high quality products in the smart LED industry. 
Although this light is high on power, motion sensing is not included with this product.
If security detection is something you wish to have, but prefer this light, there are other product options available for keeping animals secure, like farm security cameras.
This company also makes strip lights, smart electronics, Bluetooth speakers, and more.
---
3. Best in Value:

LUTECH Halogen Flood Light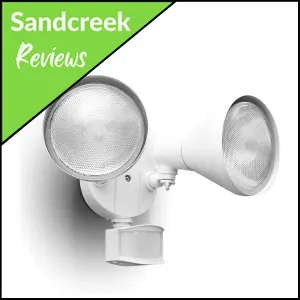 Product Ratings
| | |
| --- | --- |
| Ease of Installation | 4/5 |
| Weatherproof | 4/5 |
| Brightness | 4/5 |
| Detection Range | 4/5 |
What We Liked
2-Head fixture

Motion sensor

Has a timer
What We Didn't Like
Uses halogen bulbs
Motion detector only scores a 4.1
The Lu Tech halogen light can pick up motions anywhere from 19' – 65' away. With its 300 watts of shining energy, brightness isn't a problem.
It also comes with a 3-year standard warranty.  
This light, mounted anywhere on the farm, would really be useful. Considering the 2 lamps can rotate to take on a 360 degree rotation, it can produce light from one end of the horse stables to the other.
It truly is a great choice for helping to protect all farm animals.
---
4. Best for Convenience:

Ring – Smart Lighting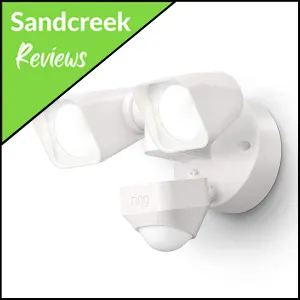 Product Ratings
| | |
| --- | --- |
| Ease of Installation | 4/5 |
| Weatherproof | 4/5 |
| Brightness | 5/5 |
| Detection Range | 5/5 |
What We Liked
It works with Alexa
Great convenience
Voice activated
Ultra-bright
What We Didn't Like
Only works with some smart devices
Waterproofing could be better
Along with pairing with some Alexa devices, this choice would truly be a great option for any type of outside needs.
Whether using on the ranch or for home purposes, voice activation could certainly be handy.  
Just keep in mind, this product does not contain a compatible bridge, which would allow it to work with the Ring app, and all settings included with the app.
It also isn't formatted to connect with other Ring devices.
---
5. Best Rating:

SANSI 180-Degree Light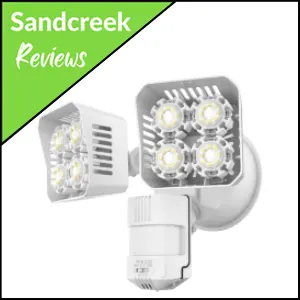 Product Ratings
| | |
| --- | --- |
| Ease of Installation | 4/5 |
| Weatherproof | 4/5 |
| Brightness | 5/5 |
| Detection Range | 4/5 |
What We Liked
Includes timer
Adjustable lamp head
Ultra-bright
Auto on and off
Dusk to Dawn Setting
What We Didn't Like
Motion detection of only 50'
Mount no lower than 13'
Dusk to Dawn lighting is exactly what it sounds like.
This light can be automatically set to stay on from the time the sun sets until it rises to ensure safety of you and the animals.
If you choose to have it only work with motion sensing, you can set it for that as well. Keeping an area lit throughout the night is sometimes necessary, especially when working after sunset.
However, timers allow for changes, and according to the season, time of year, or particular event going on, farmers and ranchers have the ability to use these timers to their advantage.
See our related article on the Best LED Tractor Lights for more products you need for working after dark!
---
6. Most Reviewed:

Amico 3-Head Security Light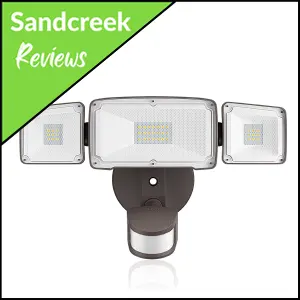 Product Ratings
| | |
| --- | --- |
| Ease of Installation | 4/5 |
| Weatherproof | 4/5 |
| Brightness | 5/5 |
| Detection Range | 5/5 |
What We Liked
3-Head fixture
Moderate price
3-Mode control switch
Made in the U.S.A.
What We Didn't Like
Weatherproofing could be better
Wattage is 40W compared to others at 55W
Amico Lighting has been in business since 1974, and although a small company, they have stepped up to become big competition for some of the other widely known lighting companies.  
Their products are known for being made with quality workmanship, exceptional care, and lasting materials.
They are suitable for use in all types of agricultural work. This particular light is great due to its multiple head fixture and a 3-mode control switch. 
It can be set for simple motion sensing or always on. In addition, this light also has a "Dusk to Dawn" setting.  
---
Comparison Chart
Product

Lepower 35W Security Light

Onforu 55W

Lu Tech Halogen Flood Light

Ring-

Smart Lighting

SANSI 180-

Degree Light

Amico 3-Head Security Light

Easy Installation

4.4/5

4.3/5

4.4/5

4/5

3.8/5

4.5/5

Weatherproof

4.6/5

3.8/5

4.3/5

4.2/5

4/5

4.3/5

Brightness

4.7/5

4.9/5

4.5/5

4.8/5

4.8/5

4.8/5

Detection Range

4.9/5

0/5

3.8/5

4.8/5

4.2/5

5/5
The Winner
Overall, we liked the Lepower Security Light the best.
It has a 5 star rating for detection range, and that's important for keeping calves, lambs, and other smaller farm animals safe. 
When thinking of the outdoors, and knowing how dependable these lights need to be the weatherproofing of these lights was just what we were looking for.
How to Choose the Best Flood Light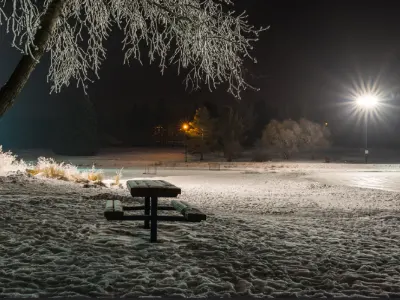 Consider the Purpose for the Light
We believe that each light has good qualities, so your choice needs to be made according to what your plan is for the light.
If you need multiple areas lit, then choosing a light with more than one lamp head may be what you need. 
In the top 6, there are some with two or three lamp heads.
Some are adjustable and can move 360 degrees while others just move 180 degrees.
How Often You Will Need the Light
When choosing between the dusk to dawn option, and the regular motion sensor light, you should contemplate the length of time the light will be needed, and if that is something you'll need consistently.  
If you find that you are frequently plowing or raking after dark or feeding animals at night, a dusk to dawn light would be a great choice.
If you only want the floodlights to be on when motion is detected, then consider opting for a motion-sensing light, instead.
Consider Indoor/Outdoor Needs
Before purchasing, think about whether you'll need the light in an inside area like a garage, workshop, barn, or something similar to any of these.
If the light is needed inside, a dusk to dawn lamp wouldn't be necessary.  
However, this would be a great time to purchase a light with a lower detection distance.
This would allow for a less expensive version of a flood light because the sensing range would be smaller.
Honorable Mentions
1.

Nuvo Lighting

– Considered for Regular Bulbs
This light should be purchased if you're looking to use regular bulbs only, and not halogen or LED lights.
In that case, you'll need to be able to reach it easily. Up against lights requiring LED bulbs, these bulbs will have to be changed more often.
Depending on how long you plan on using the light each time it's on, will determine how often you'll need to climb up to change the bulb.
If this is the choice you go with, maybe mounting it at a low level would be helpful.
2.

Lutec Lighting

– Considered for a Not So Bright Light
This light is not bad, but at 32W, it's not as bright as others. For a patio, garden area, or a sidewalk at your home, this would be perfect.  
If you plan on using your flood light for larger areas like the outside of a feed room, under the roof of the cattle pens, or along the edge of the fence line, choosing one with higher wattage would be your best bet.
3.

Lithonia Lighting

– Considered for No Motion Sensing
If you're not interested in motion detection lighting, then this light just may be for you. It has a lot of power, 2 fully adjustable headlamps, and lasts for 50k hours.
This option is also a good choice if you already have security cameras set up.
Security cameras have a motion detecting system of their own, so you may feel a light motion system isn't needed.
4.

LEPOWER Lights

– Considered for Smaller Detection Area
This light is a great brand and is just what you need for a smaller motion detection area. If you're planning on mounting this light in a confined area, it will do the trick.  
In places such as the inside of the barn, hay loft, or the tool shed, this light would work perfectly.