Besides food and vaccination, water is a vital part of life demands for cattle. The best cattle waterer is a life-saving solution for farmers.
It keeps the water clean and clear all the time, so your cows will always stay hydrated and healthy. However, finding a high-quality cattle waterer can be challenging for first-time farmers.
We reviewed dozens of cattle waterers on the market, and selected our top 5 for you, rating them on their efficiency, durability, ease of maintenance, and price point. 
*This post may have affiliate links, which means I may receive commissions if you choose to purchase through links I provide (at no extra cost to you). As an Amazon Associate I earn from qualifying purchases. Please read my disclaimer for additional details.
Our Picks
How We Chose the Best Cattle Waterer Options
Efficiency
Cattle Waterers are designed to save you time, and streamline the care of your livestock. That means an efficient design is crucial.
You shouldn't have to check water levels, and it should distribute water quickly enough so that your animals can drink their fill without crowding one another at smaller troughs.
Durability
Cattle waterers face extreme temperatures, harsh sun, and lots of wear and tear from the animals, so it's important that they are built to last, and withstand lots of use and hard knocks. 
Maintenance
You will eventually have to repair your supplies – replacing hoses, connections, and other parts – and it's important that this is user-friendly, to avoid wasting your time, energy, and money. 
Additionally, even the best livestock waterer will need to be cleaned from time to time, to prevent the buildup of debris, fungus, or other things that can cause disease, and serious health issues. 
Best Cattle Waterers Reviewed
1. Best Overall: Ritchie Watermatic 100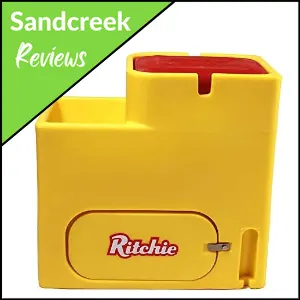 Product Ratings
| | |
| --- | --- |
| Efficiency | 5/5 |
| Durability | 5/5 |
| Maintenance | 5/5 |
| Affordability | 4/5 |
Material: plastic | Animals at one time: 1 | Features: Automatic Refill, Fully Insulated, Low Water Waste, 20 cow herd capacity
What We Liked
Solid and sturdy plastic construction
Easy to clean and maintain
Refills water automatically
10-year warranty
20-cow herd capacity
Optional heat package for winter
What We Didn't Like
Only available for one animal at a time
This automatic watering system ensures that your livestock is well-hydrated, and the temperature control options keep the water at an optimal temperature to prevent health problems in your livestock. 
This Ritchie waterer provides you hassle-free maintenance.
It consists of high-quality plastic with a one-piece fountain body that is designed to last a lifetime without cracking or leaking. Weighing only 55 pounds with a drop-in cover, this cattle waterer is easy to clean and maintain.
The trough slopes toward a drain hole, making it easy to skim debris from the top. With a load capacity of 2.8 gallons, this waterer can provide sufficient water for a cattle farm of 20 head of cows, horses, or sheep.
The efficient design causes a valve to flip when the water level gets low, triggering the waterer to refill automatically, so that you don't have to spend time and energy checking the water level.
Read More: Best Fence Chargers for Cattle. We tried the top fence chargers for cattle on the market today and here's what we discovered during testing!
---
2. Runner-Up: Ritchie Thrifty King CT1-2000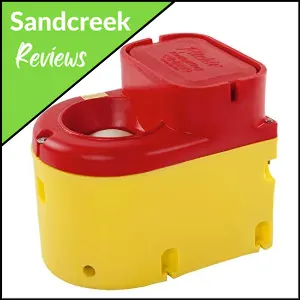 Product Ratings
| | |
| --- | --- |
| Efficiency | 5/5 |
| Durability | 4/5 |
| Maintenance | 5/5 |
| Affordability | 5/5 |
Material: Plastic | Animals Capacity: 30 | Features: Heating System, Insulated and covered water to keep water cool and protect against mosquitos
What We Liked
Thermal equalizer design keeps water cool
Secure closure
Easy to lift for maintenance and cleaning
Energy-saving design
What We Didn't Like
Plastic construction is not as sturdy as other options
Ritchie Thrifty King CT1-2000 is a great heated waterer for your cattle, and is designed to be particularly effective in cold environments. Its Thermal Equalizer design is the key to always keep water at a moderate temperature.
The thick polyethylene plastic body keeps the water cool and prevents leakage. You can use a bucket heater in the back if necessary, but with several animals using it, there's no chance of a freeze. 
The elliptical closure covering the drinking area keeps the water clean and fresh all year long. This closure keeps the water from freezing in winter.
It also maintains cool water in the summer while preventing any dirt, rainwater, and debris from entering. Secure as it might seem, this lid can be removed in one minute using your finger. No tools, springs, or clips are required.
Since this waterer consists of plastic, it is more affordable and lightweight than metal ones. However, it can wear out after a few years. You should check it regularly. If there is any leakage, please replace it with a new one to avoid water waste.
This water fountain is a single-drink waterer capable of a farm of 30 beef cattle.
Read our related article, What Do Cows Drink? We explore what cows drink as they grow, what resources should be made available for them, and more in this guide!
---
3. Best for Large Farms: Little Giant Automatic Animal Waterer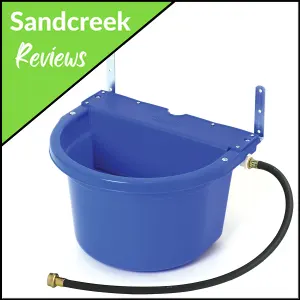 Product Ratings
| | |
| --- | --- |
| Efficiency | 5/5 |
| Durability | 4/5 |
| Maintenance | 4/5 |
| Affordability | 4/5 |
Material: Plastic | Animal Capacity: 20 + | Features: Automatic Refill | Gallons: 4 Gallon Capacity | Installation: On-wall of over-fence mounting with brakets (included)
What We Liked
Farm-grade standard
Many color choices
Easy to install with hose and brackets included
Flexible float system
What We Didn't Like
Quality of the default hose option is poor
Difficult to clean, and can't drain from bottom
This Little Giant waterer is a reliable solution for professional farmers. This watering system keeps your livestock hydrated thanks to its big load capacity and clever design.
With a maximum holding of 4 gallons, and a flexible float system, this waterer is suitable for farms of large animals like cows and horses. Thanks to its huge capacity, your farm animals always have an appropriate amount of water available.
This automatic waterer is easy to assemble, even for first-time farmers. You can install this water bowl on fences or walls with the metal brackets included in the package.
For water supply, you can connect it to a ½ inch pipe or flex hole. You can also use a 30 -inch standard garden hose with a diameter of ¾ inches included in the package. 
However, you may want to replace the default hose with one of your own, as several of our reviewers noted that the included hose quality was flimsy. 
---
4. Best for Cold Weather: Ritchie Omni Fount 2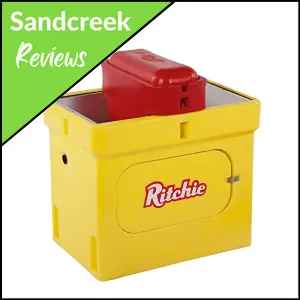 Product Ratings
| | |
| --- | --- |
| Efficiency | 5/5 |
| Durability | 5/5 |
| Maintenance | 5/5 |
| Affordability | 4/5 |
Material: Plastic | Animal Capacity: 40 | Features: Heating System, Fully Insulated Casing, Rounded Edges, Fast Refill Valve
What We Liked
Safe heating system under the trough
Smooth and rounded edges are safe for animals
Suitable for big farms and split pens
Manufactured in the USA
The Omni Fount 2 is similar to the Ritchie Watermatic 100, but for large-sized farms. Since it has 2 wide openings, you can put it between 2 pens. This waterer is advisable for farms from 1 to 40 cattle heads.
You can keep water at the perfect drinking temperature all year long thanks to the stainless-steel thermostatically controlled heated plates. These plates are located under the trough to keep water frost-free even on the harshest winter days.
Another strong plus of this Omni in-ground livestock waterer is that it goes with safety in mind. First, a high-efficient polyurethane foam separates the heating system and the water, protecting your cattle from electrical shock. 
Second, all the shapes are round and smooth, preventing your cattle from injuries when contacting the waterer. The Omni water fountain is easy to assemble in a few minutes. You just need to stick it to the concrete pad using steel anchor bolts.
Further Reading: Top Cattle Banders Reviews. Check out what we found while testing the top cattle banders!
---
5. Best Automatic Waterer: Little Giant Trough-O-Matic Stock Water Tank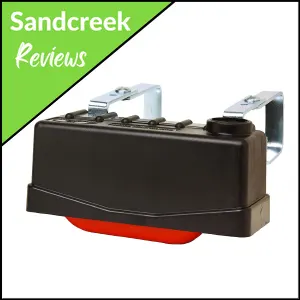 Product Ratings
| | |
| --- | --- |
| Efficiency | 5/5 |
| Durability | 5/5 |
| Maintenance | 3/5 |
| Affordability | 5/5 |
Material: Plastic | Animal Capacity: 20 + | Features: Automatic Level Control
What We Liked
Great for big farms and large livestock

Compatible with any existing water container

Anti-siphon float valve and effortless water control

Extremely affordable
What We Didn't Like
Plastic construction is less durable than the metal. Parts may break easier than metal alternative
Most challenging to clean
Automate your water supply with this Little Giant Trough-O-Matic. 
This cattle waterer has up to 245 gallons of water flow per hour with pressure from 20 to 50 PSI, and can be installed in any existing trough or stock container, making it an ideal choice for big farms.
All your cattle can drink in a huge single water bowl at a time. You can put this waterer in tanks, troughs, barrels, and pans instead of purchasing a single fountain for each pen.
The Anti-Siphon Float Valve underneath the machine monitors water level to provide water for all animals.
Since animals don't have to wait for others, they are always well-hydrated, maintaining production levels, and keeping health problems at bay.
Our only complaint with this otherwise-excellent option is that it's our most challenging option to clean – but the price point and efficiency can't be beat.
---
Comparison Chart
| Product | Best Overall | Runner Up | Best for Large Farms | Best for Cold Weather | Best Automatic |
| --- | --- | --- | --- | --- | --- |
| Overall Rating | 4.75/5 | 4.25/5 | 4.25/5 | 4.5/5 | 4.5/5 |
| Efficiency | 5/5 | 5/5 | 5/5 | 5/5 | 5/5 |
| Durability | 5/5 | 4/5 | 4/5 | 5/5 | 5/5 |
| Maintenance | 5/5 | 4/5 | 4/5 | 5/5 | 3/5 |
| Affordability | 4/5 | 4/5 | 4/5 | 3/5 | 5/5 |
The Winner
Our clear favorite was the Ritchie Watermatic 100. It's reliable, efficient, and great for cold-weather ranges. The incredible durability, efficiency, quality, and smart design make it a lifetime purchase. 
What Should You Consider for Your Perfect Cattle Waterer?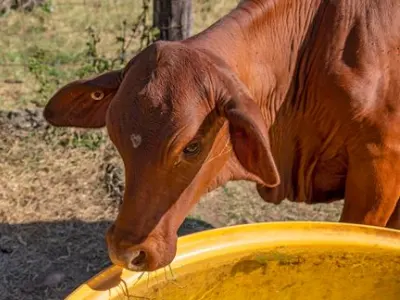 Type
There are several types of cattle waterer designs. The most common is the electrically-heated waterer, which uses a heater to keep the stored water warm, and at a constant comfortable drinking temperature. 
There are also low-energy or energy-free designs, which are usually a large, insulated tank that uses little to no power to store and regulate the temperature of the water. 
This prevents you from relying on thick layers of insulation to prevent the water from freezing. 
Lastly, there are alternative-energy waterers, which are very popular with farmsteads as they are designed for use off the grid.
The tanks are wrapped in thick insulation or can be drained into a reservoir below the frost line. 
Waterer Size
The size of the tank will affect how many cattle or livestock can drink at a time. You want to make sure that the waterer is set up to accommodate the size of your herd.
This is so they get enough water in the heat, and you don't have to buy more waterers than you can't afford or maintain. 
Avoid Sharp Edges
Animals can hurt themselves on sharp corners, especially if they are all jostling and pushing up against one another in the heat when they are thirsty and clumped around the waterer. 
Make sure that if there are sharp corners in the construction, they are not anywhere the animals can come into contact with. 
Material & Durability
Depending on the material that your waterer is made out of, its durability is going to be different.
On the market, most waterers are either made from plastic or metal. Plastic waterers are more affordable, but they don't last long. Metal waterers are the complete opposite.
They require a higher upfront cost, but in return, they last a lot longer than the cheaper plastic waterers.
Additionally, since metal waterers typically have higher quality, they're more efficient at delivering water, too.
Heating Components
While you're shopping for a new cattle waterer, you can either choose between a heated or non-heated variant.
Flexibly take your pick depending on the climate in your area. If you live in cold areas, it's best that you purchase a heated automatic one.
They will keep the water at a consistent temperature that's safe and comfortable for the animals to consume. On the other hand, non-heated waterers simply use an insulation layer to lock in the water temperature. 
This type is more energy-efficient, but may not be the best choice for those who live and work in cold areas. It's going to be great for people in hot areas, though. The insulation can keep the water cool in the day's heat.
Cleaning and Maintenance
Cattle watering devices are designed to save you time, so it's important that you don't subsequently waste all your time cleaning the device. 
A good waterer should take only a minute to clean. Any model that takes longer to clean wouldn't be efficient.
Check out this video by Ritchie Waterers showing how to clean your livestock waterer:
Why Buy a Cattle Waterer?
A cattle waterer can ensure that all of your cattle get enough water throughout the day. You would no longer have to walk around, and check to see if each animal has enough access to water.
An automatic waterer can handle everything for you, but if you're on the fence, there are more things that it can do for you (and your animals).
Keep Water Clean and Hygienic
When you leave a bowl of water outdoors, it's going to be dirty in no time. If not by dirt, dust, and other environmental contaminants, then by bugs and debris.
A best-rated automatic waterer can protect the water by holding it in an underground reservoir. It will only draw out the water when needed, so cleaner drinking!
Better Hydration
Like every living being, your cattle must be hydrated if they are to remain healthy.
Automatic cattle waterers can keep their drinking water cool during the summer months, and warm during the winter months.
This is the greatest advantage to having a cattle waterer. When your animals can have continuous access to clean water at a good temperature, they will naturally drink more. 
Frost Protection
If your farm is located in cold areas, a cattle waterer is absolutely essential. Because the water isn't kept in the bowl and stored away in the reservoir, it won't freeze.
Frozen water is a risk not only to your animals, but also to your property. It can damage your bowls or pipes. Your animals also won't be able to drink it, leading to dehydration and sickness.
Pest Control and Standing Water Reduction
Standing water is a fertile breeding ground for mosquitoes. They lay eggs in water, which, in several days, will hatch into larvae. Eventually, these larvae metamorphose into full-grown mosquitoes.
By having a cattle waterer, you will effectively remove standing water from your property. Mosquitoes won't be able to access the underground reservoir, so there's no place for them to breed and grow.
Tips for Installing Your Cattle Waterer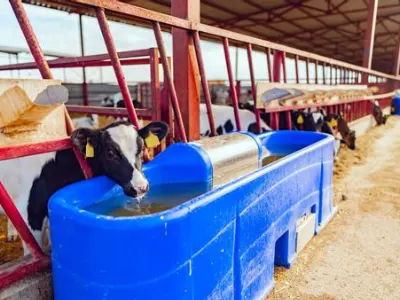 For Electric Waterers
A lot of care is given to the installation process of this kind of waterer due to the added risk of electrocution to the animals.
Usually, the waterer itself is mounted on top of a base to keep it from moving around and damaging itself, or the delicate electrical wirings.
One of the most important components of this waterer are electric heat tapes, which are wrapped around rinse pipes to prevent the water from freezing up, and clogging up the waterline.
Most electrically heated waterers on the market have 600 to 1,000 watts of electric heating elements. A full set will include a power supply to control the water pump and heat tapes to protect the water pipes.
The power supply is the most important (and most expensive) part of the system.
For Low-Energy Waterers
Installing this kind of waterer is a very delicate science. They will only work well with proper installation and management. One thing to keep your eyes on is the circulation of water through the waterer.
As the animals use it, water is going to circulate through the system. 
Continuous circulation will ensure that the water in the tank is always going to be clean, and at a good drinkable temperature.
If the water sits for too long in the tank, it would be at risk of standing, and being contaminated with bacteria or pests. Make sure you check the water level once or twice per day. 
For Alternate Energy or Farmstead Waterers
Water is pumped up from the reservoir as needed. There are many ways for the system to know when water is needed, others use motion or pressure sensors to trigger solar-powered refill systems. 
To make the most use of your waterer and extend its life, be sure to install it in a wide open space where cattle can easily access it, but in a spot with at least partial shade to reduce evaporation, and cut your electricity costs. 
It's important to install on a level surface to allow the water to drain easily and keep the system clean.
You can improve drainage by installing it on top of stones or gravel, which helps to prevent the surrounding area from becoming a mudhole.