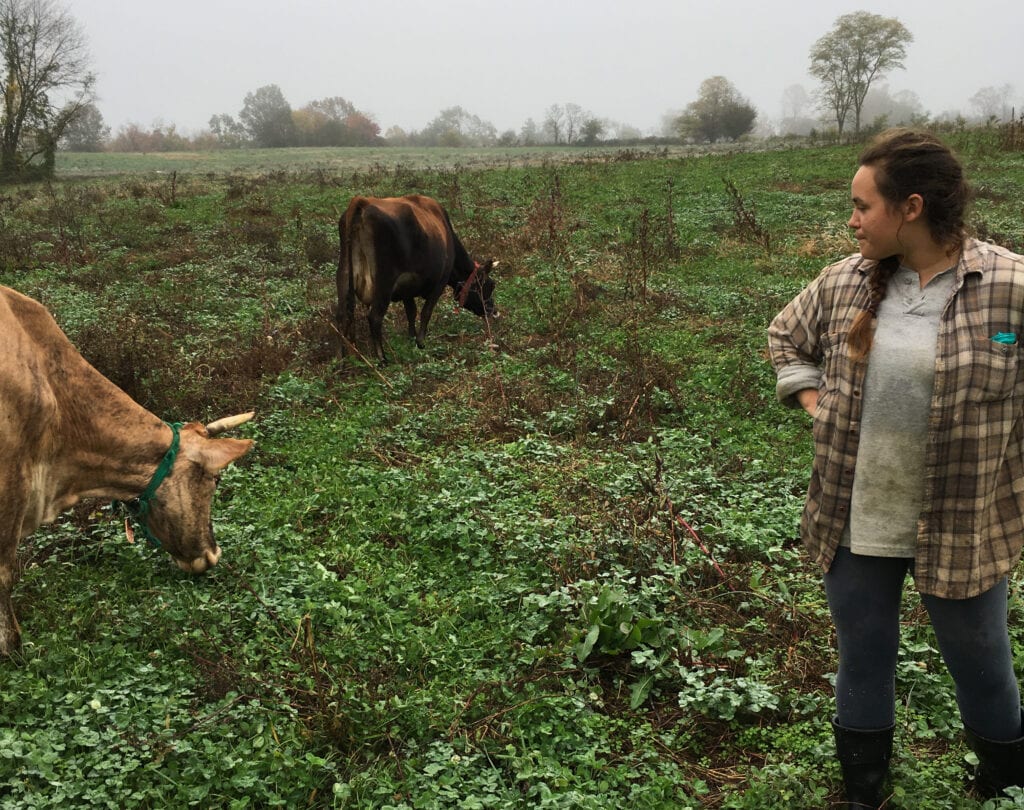 In December of 2020, Jessica White became the second certified Journey Dairy Grazier in the state of Pennsylvania by graduating from Pasa's Dairy Grazing Apprenticeship program.
Over the course of her apprenticeship at host farm Camphill Village Kimberton Hills in Chester County, Jessica not only fulfilled the required 3,700 hours of on-the-job training and 300 hours of related technical instruction; she also realized long-term visions for both her professional life and personal life—launching a value-added cheese business in 2019, and marrying her farming partner in the same year. 
We recently caught up with Jessica and asked her to reflect a bit on her experience with the program and its role in her farming journey.
Tell us your "farming story." 
I began farming in 2013, working in vegetable production systems. Almost right away, I found strength and peace in the work, as well as a developing commitment to farming in a way that feels like healing, rather than "stealing." I have an inner motto of giving back to the Earth, and giving thanks to the animals, the land, and the weather, within the practice of agriculture. 
What inspired you to try dairy farming?
My inspiration to focus on dairy as a career mostly came from a natural calling to the work and lifestyle. Even though vegetable farming was what I found first, grass-based dairy farming ultimately felt to me like the "belt that holds up the big pants" within agriculture. This is particularly true in the Biodynamic methodology, where the cow is considered the heart of the farming system. She provides the compost that in turn helps grow the best forage. While farming vegetables was uplifting, rewarding, and fun, ultimately it didn't provide me with what my soul desired, which was caring for another soul. Dairy farming gave me a sense of personal growth because it pushed my strengths and weaknesses as a human being. Working within dairy has made me feel pride for who I have become.  
Although I have been farming since the spring of 2013, it wasn't until a few years ago that I found out my ancestors were also dairy farmers in Baltimore, Maryland. My grandfather was a first generation American whose parents immigrated from Poland after losing their farm in World War II. They didn't have a lot of land in Baltimore, but they kept a garden, chickens, and ducks. When he was able to save enough money, my grandfather bought a cow and named her Bessie. He would walk her to her favorite clover patch to graze, and eventually built the house my mother grew up in beside this field. When I began dairy farming, I could sense a feeling of "getting back to my roots," which has been an empowering feeling.
Why Dairy Grazing Apprenticeship? What positives came from the apprenticeship for you?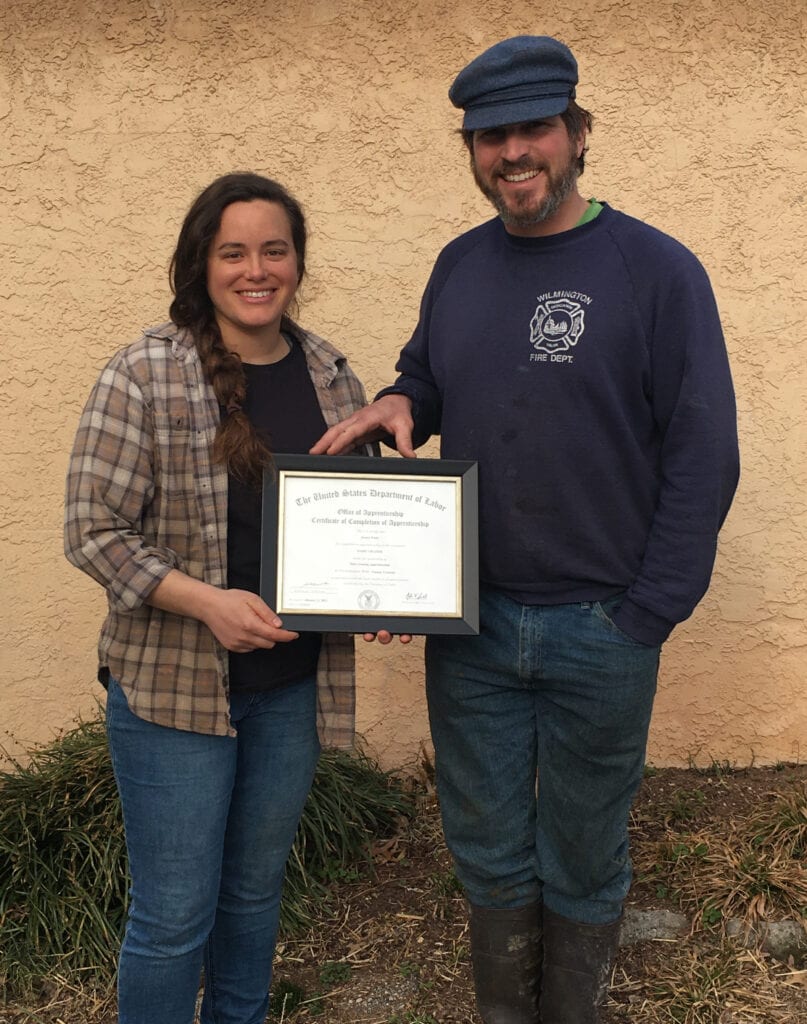 What inspired me to try Dairy Grazing Apprenticeship was the opportunity to tighten up my grazing and farming knowledge. I first learned about it at the Pasa conference, and it was great to hear about an educational opportunity focused on dairy grazing and that it had even been registered with the government as a skilled trade. Before my apprenticeship, I was going off of a few years of experience and struggling to listen to my gut instincts. Through the program, I was able to develop more confidence in my natural instincts, combined with the supplementary education that I was working through in online classes and in-person workshops.
Dairy Grazing Apprenticeship connected me with other dairy farmers, and a larger dairy network. It showed me other ways of approaching work, like making quality baleage and managing herd health. The program was also a great resource in discovering opportunities available for dairy farmers to grow their business. It was through the apprenticeship and Pasa that I heard about a value-added grant opportunity that has since helped my home farm develop a cheese house, purchase new equipment, and start a new business that we hope to launch this year.
What are some challenges along the way that you've had to overcome or accept within dairy farming and apprenticeship?
Some challenges along the way with apprenticeship, in particular, were finding time to add in my studies alongside the work-life as well as speaking up for my needs in finding balance between work, study, and my personal life. 
Probably the biggest challenge, however, has been learning the reality that within dairy farming every day can be extraordinarily different, depending on Mother Nature. Trying to work with the natural world in a symbiotic manner can be difficult when the weather is messing up your farming system, for instance. There needs to be flexibility in one's mind and lifestyle. You need to be able to adapt quickly mentally and make a different decision than the one you'd initially planned in order to realize the best possible outcome. There also needs to be forgiveness and acceptance for others and ourselves—it's not always going to be perfect, and sometimes you're going to have to leave early or miss something. The weather and the animals do not wait for anyone. 
What's your advice to others who might be thinking about entering into dairy farming?
The advice that I would give to others who would like to try dairy would be that it doesn't hurt to try it, but if you do not have the patience or sincere passion for the animals or for the land then be honest with yourself and find a different career-path. Also, if you stick with it, problems will arise, and it is okay to make mistakes. The quicker you are in realizing this, the better teacher you will become not only for others, but also for yourself. 
---
Get involved with Dairy Grazing Apprenticeship
Founded by dairy farmers in Wisconsin in 2010, Dairy Grazing Apprenticeship was the first nationally registered farming apprenticeship in the country and is now operating in several states. Pasa administers the program in Pennsylvania and surrounding areas.
Applications for both apprentices and host farms are reviewed on a rolling basis. Learn more & apply >>