Tractors have evolved in design over time, as has technology and the world. They previously utilized steam engines, but today they run on diesel, which has improved the overall speed.
There is no historical evidence of how swiftly early tractors traveled, but we'll find out how fast contemporary ones can go.
Generally speaking, most modern tractors can reach a top speed of 25 mph when driven at full throttle. However, some manufacturers provide a "high speed" transport option that increases this top Speed to 30 or 40 mph. 
Tractors were created to deliver high-quality torques at low speeds, particularly useful in agricultural, construction, and mining operations. Let's go a little more in-depth into the speed and function of the modern tractor.
*This post may have affiliate links, which means I may receive commissions if you choose to purchase through links I provide (at no extra cost to you). As an Amazon Associate I earn from qualifying purchases. Please read my disclaimer for additional details.
Average Speed of a Tractor
The average tractor's top Speed is 25 mph, but some models can exceed that.
Newer tractors have the potential to reach speeds of 40 mph, however, they are required by law to follow specific safety regulations.
Tractors driven at more than 20 mph must follow the technical requirements established by legislation passed in 1994. Installation of brakes that are equivalent to or better than those on trucks is required.
Agricultural tractors have benefited from significant technological improvements, especially in brakes and other safety-related items.
Tractors have changed significantly over the years to keep up with the demand for more complex and multipurpose equipment. Nowadays, some tractors can reach speeds above 20 mph, and all have enhanced stopping capabilities.
Higher tractor speed limits have resulted in greater productivity and growth in gross national product. Allowing them to go even faster will also help with traffic on narrow roads.
The Fastest Speed of a Farm Tractor
The JCB Fastrac Two beat the average and has a top speed of 153.771 mph (247 km/h)!
In 2019, this tractor set a new Guinness World Record, later confirmed by the Book of World Records. When this tractor was being tested, two test runs were done.
The tractor reached up to 153 mph on one run and 103.6 mph on the other.
The average fastest Speed of a tractor was 135 mph as a result of these two runs. Before this, in 2018, the highest typical Speed of a tractor was 87.27mph.
Here's a video of this tractor in action:
Read More: Different Kinds of Tractors. We explore the different kinds of tractors with pictures and their uses to help you visualize the best tractor for your needs!
How Fast Can a Tractor Go On the Road?
When driven on the road, most tractors have a top speed of around 25 to 40 mph.
The tractors reaching nearly 40 miles per hour have suspended front axles and a higher gear ratio than most other tractors. This was first put into place in 1994.
In 2005, the ASABE Standard S390, "Definition and Classifications of Agricultural Field Equipment," added agricultural field equipment ground speed classifications.
Agricultural field equipment was divided into five categories in the standard based on its nominal maximum ground speed when operated as designed and advertised by the manufacturer.
This standard does not define "higher-speed" tractors, but any tractor with a top speed of 25 mph (40 km/h) is included in this category for our purposes.
List of 10 Fastest Tractors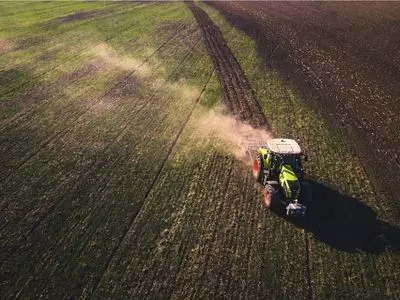 Tractors aren't usually fast vehicles, but some tractors without the SMV (slow-moving vehicle) badge are.
It's an exciting thing to watch one of these tractors reach top speed.
Here's a list of the top 10 fastest tractors available today.
| Tractor | Speed (MPH) |
| --- | --- |
| JCB 4190 & JCB 4160 | 37 |
| Fendt 939 Vario | 37 |
| JCB 4220 | 37 |
| JCB 8290 | 43.5 |
| JCB 8330 | 43.5 |
| Allis Chalmers Model U | 67 |
| Valtra T234 | 67.1 |
| Top Gear Track-tor | 87.2 |
| The 8NCREDIBLE | 96 |
| JCB Fastrac 8000 | 103.6 |
1. JCB 4190 & JCB 4160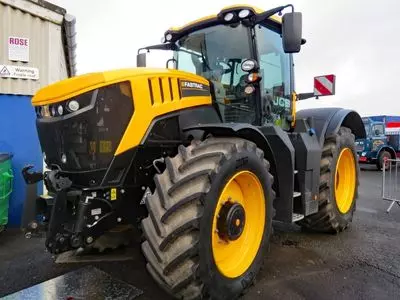 The JCB 4190, like the 4160, is a tractor for agricultural use. It's slightly more potent than the 4160 and can achieve a top speed of 37 miles per hour.
The JCB 4190 simplifies the life of farmers by providing an easy-to-use machine that gets the job done quickly and efficiently.
2. JCB 4220
The powerful engine on the JCB 4220 allows it to reach speeds of up to 37 mph and has more torque than its smaller siblings, the JCB 4190 and 4160.
3. JCB 8290
The JCB 8290 can reach up to 43.5 mph and was introduced in 2016. This tractor may remind you of a Lamborghini mower since it has that appearance.
4. JCB 8330
The maximum engine power of this vehicle is 348 hp, and it generates a torque of 1440 Nm.
It has a top speed of 43.5 mph and modern amenities like GPS and cruise control.
NOTE: All of the JCB 4000 and JCB 8000 Series tractors have a similar build to the image above.
5. Fendt 939 Vario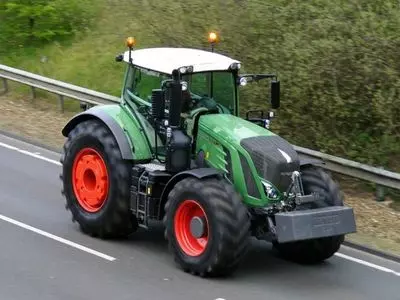 The Fendt 939 Vario can match the JCB 4190 and 4160's 37 miles per hour top speeds.
This tractor was manufactured in Germany by a firm that has been an industry leader for almost 80 years, thanks to its innovative technology.
6. Allis Chalmers Model U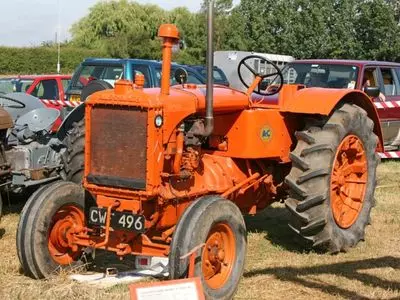 Despite its retro appearance, the Allis Chalmers Model U can travel up to 67 miles per hour.
This tractor set the world record for Speed 81 years ago and held that title for an impressive amount of time.
7. Valtra T234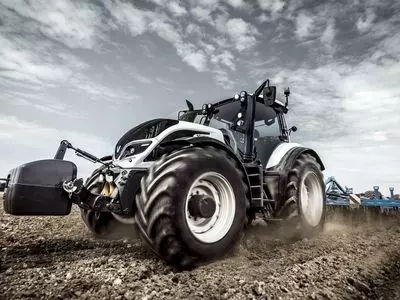 The Valtra has a top speed of 67.1 mph and uses winter tires optimized for the snow, making it a great option for areas that see heavy winters.
8. Top Gear Track-tor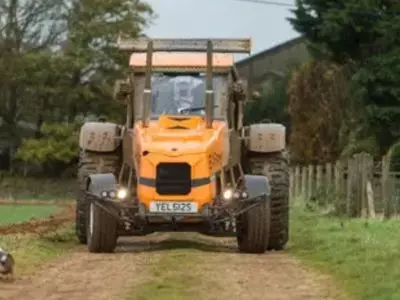 The Top Gear crew went berserk over tractors and created a monster.
The Track-tor is powered by a 500-horsepower, small-block V8 Chevy engine with four-wheel disc brakes, and a fully adjustable air suspension. It has a top speed of 87.2 mph.
9. The 8NCREDIBLE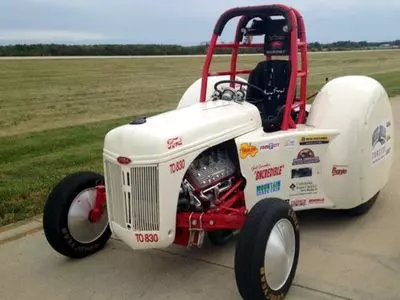 The great rear tires on this tractor were taken off an airplane and given a high-speed rating.
The maximum velocity for this beast is 96 miles per hour, its speed and performance are owed to Jack Donahue, the NASCAR driver.
10. JCB Fastrac Two
The JCB Fastrac series tractor is equipped with a six-cylinder, 7.2-liter diesel engine and two turbochargers that produce 1,000 horsepower.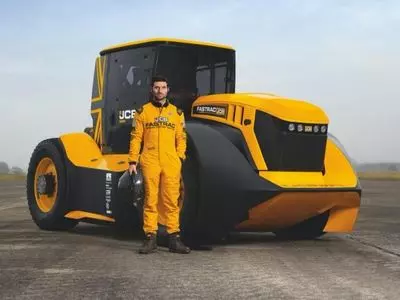 It has reached a top speed of 103.6 mph, making it the world's fastest tractor.
Read More: Biggest John Deere Tractor. Looking for a big tractor that can handle all of your toughest tasks? These John Deere tractors are monster machines.
Conclusion
Although the average tractor is built for agricultural purposes and not the race track, it still can reach a high speed for its size and utility.
As the tractor has evolved, it certainly increased its speed in order to keep up with the demands of today's farmers and consumers.