The article today is inspired by my child's question "Dad, what is the biggest farm in the US?". At the time, my answer was "the Stewart & Lynda Resnick farm".
Later that day, I discovered quite a few different big farms in a number of different industries that piqued my curiosity, like the largest wind farm.
This post today piles up the top 9 biggest farms in the United States with more in-depth information about their specific products, including turkey, cattle, crop, dairy, and even alternative energy sources.
Please be aware that, the list is collected from valuable & latest sources for the date we publish this article (September 2022). We will try to update it once a year and note the date of the edition. 
*This post may have affiliate links, which means I may receive commissions if you choose to purchase through links I provide (at no extra cost to you). As an Amazon Associate I earn from qualifying purchases. Please read my disclaimer for additional details.
What Is The Largest Farm In The US?
The answer to what is the biggest farm in the US depends on what industry you are inquiring about. However, the largest crop farm by acreage is owned by Stewart & Lynda Resnick.
Top 9 LARGEST Farms In The US
1. Biggest Farm In The US: Stewart & Lynda Resnick
Total Farmland: 190,000 acres (297 square miles)
Stewart Resnick is a serial entrepreneur who is famous for brands like the Franklin Mint and Teleflora.
Now, with his wife Lynda, they are the founders of the popular Wonderful Company and brand as well as the Fiji Water brand.
In the 1970s, he purchased 2,500 acres of fire-sale lemons and oranges in Kern County and never looked back.
After that, he bought considerably bigger areas that were eagerly sold by businesses like Prudential Life and Mobil.
These days, the couple's Wonderful Company, which is worth up to 4 Billion ($USD), provides a variety of high-quality, nutritious goods that feed people all over the world.
Goods such as the Wonderful Almonds, Wonderful Pistachios, Wonderful Halos Mandarins, Resnicks' FIJI Water, and POM Wonderful Pomegranate Juice.
2. Biggest Solar Farm: Solar Star, California

Total Farmland: 3,200 acres (5 square miles)
Solar Star is the largest solar farm in the United States and also in the world.
Located in California, it was finished being built in June 2015 and contains about 1.7 million panels that spread out across 3,200 acres.
The Solar Star farm is divided into 2 sections – Solar Star 1 and Solar Star 2, each section capable of different watts to serve a wide variety of needs.
Solar Star 1's capacity is 314MW and Solar Star 2 is 265MW and when combined, the entire farm generates a total of 579MW of electricity.
That is enough electricity to provide power for 255,000 households.
Read more: Top 5 Biggest Farms In The World
3. Largest Cattle Farm: Deseret Ranches, Florida

Total Acreage: 300,000 acres (468.75 square miles)
Deseret Ranches (or Deseret Ranch) is the biggest cattle farm in the US.
Belonging to The Mormon Church (LDS Church, or Latter Day Saints) in Florida, this farm covers about 300,000 acres of land over three counties in Central Florida: Brevard, Orange, and Osceola.
Founded in 1950, the first ideas of establishing this ranch were drawn up in 1949, with the first 45,000 acres of land purchased in 1950.
The Deseret Ranch is primarily a community initiative and is very active in ranching and stewardship.
With a herd of 44,000 Deseret cattle, the Deseret Ranch, at the moment is the largest cattle ranch in the US.
4. Biggest Crop Farm: Gaylon Lawrence JR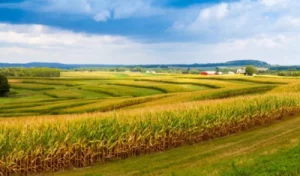 Total Acreage: 115,000 acres (234 square miles)
Gaylon Lawrence Jr. is the CEO of The Lawrence Group, originally founded by his father.
The Group manufactures a vast array of products, from banking and commercial real estate to agriculture.
Spanning more than 115,000 acres across the country and in a variety of locations like the Delta, The Lawrence Group's crops run the gamut.
From cotton to sweet corn and citrus and winter wheat to wine grapes, Gaylon Lawrence Jr.'s estimated net worth is 21 Million ($USD).
The Lawrence Group also purchased a township along the Mississippi River's Arkansas side in 2010.
Spending about 110 Million ($USD) to buy the Wilson family's property, they grew their agriculture division by 42,000 acres of farming land. .
Thanks to that decision, this land surrounds one of the biggest contiguous farmlands in the Delta – Wilson.
5. Biggest Wind Farm: Alta Wind Energy Centre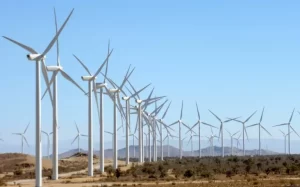 Total Acreage: 3,200 acres (5 square miles)
The biggest wind farm in the US is located in Kern County, California, and has a whopping capacity of about 1,550MW (or 2,080,00 hp) and can serve 257,000 California homes.
The power from the Alta Wind Energy Center (AWEC) is all sold to the company, Southern California Edison.
Terra-Gen Power, the owner of the farm, has made a contract to sell electricity for 25 years to the power utility.
This wind farm is also known as Mojave Wind Farm. Its operation began in 2011 with only 5 units over a long period of only 5 years, this wind farm grew to 600 windmills strong.
In 2010, Vestas, a Danish company that specializes in producing wind turbines, won a supply contract to provide the Alta project with 190 units of their V90-3.0 MW type wind turbine.
6. Biggest Turkey-Producing State: Minnesota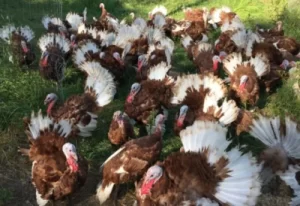 Total Turkey Production: 40 Million
With about 600 turkey farms currently, it is not surprising that Minnesota is one of the biggest turkey producers in the United States.
According to the United States Department of Agriculture, Minnesota farmers produced 40 million turkeys in 2020, as well as 64 million chickens, along with 3.2 billion eggs from laying hens.
In the same year, Minnesota's economy received $995 million in sales from eggs, chickens, and turkeys alone.
Although Minnesota is the biggest turkey-producing state, the largest turkey producer company is Butterball LLC located in North Carolina – the second biggest turkey-producing state.
Butterball LLC is a joint venture company of Maxwell Farms Inc. and Smithfield Foods.
These venture companies specialize in producing food products such as turkey, raw roasts, cured deli meats, salads, soups, sandwiches, and entrées.
7. Biggest Pork-Producing State: Iowa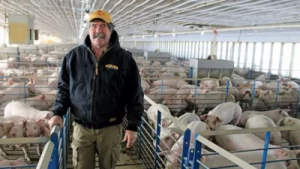 Total Number of Hogs: 31.7 Million
In 2020, there are 5,418 hog farms in Iowa, making up a third of the total number of pigs in the country.
With at least 69% of the pigs in Iowa raised on farms along with 5,000 or even more pigs per farm, this makes Iowa the biggest pork producer in the US.
Pig farms in 5 counties – Plymouth, Hamilton, Lyon, Sioux, Washington, and Iowa – account for 25% of the state's pig population.
Iowa butchered 32 million pigs in 2021, accounting for nearly a third of the total number of slaughtered pigs in the country that year.
However, the biggest pork producer in America is Smithfield Foods, a company located in Smithfield, Virginia.
This company produces roughly 18 million pigs yearly on their 2,100 contract farms and 530 company-owned across 15 states.
65% of Smithfield Foods' farms are based in Missouri and North Carolina, with 139 farms in Missouri and 203 farms in North Carolina.
8. Biggest Chicken-Producing State: Iowa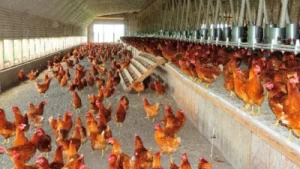 Total Number of Chickens: 60 Million (Per Year)
Apart from being the leading pork-producing state in the US, Iowa is also the state that produces the most chickens and other poultry products.
In 2020, the number of chickens in Iowa ranked the highest in the country with 60 million. Indiana and Ohio are the second and the third respectively, with about 44.5 and 43 million respectively.
Nevertheless, Tyson Foods – interestingly the biggest poultry producer in the US and worldwide is located in Arkansas, not Iowa.
They are famous for not only chicken products but also beef and pork meat.
Aidells, Ball Park, Hillshire Farm, Jimmy Dean, State Fair, and Wright Brand are among the most well-known brands within the Tyson Foods umbrella.
9. Biggest US Dairy Company: Dairy Farmers of America, Inc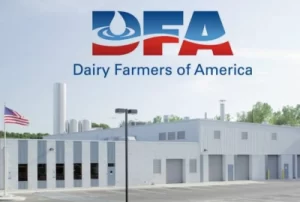 Total Sales from 2019: 11.36 Billion ($USD)
While DFA is not the biggest dairy farm, it is the biggest dairy company in the United States that is based on a farm-to-table model.
It is also a cooperative, implying that all 16,000 dairy farmers who make up the group are co-owners and share in the profits.
DFA facilities are set up to process, package, and sell the milk produced by these farmers and their several ranches.
Some of their most well-known brands include Sport Shake, Plugrá Butter, Oakhurst Dairy, Live Real Farms, La Vaquita, Kemps, Keller's Creamery Butter, Guida's Dairy, Falfurrias Butter, Dairy Maid Dairy, Craigs Creamery, Cass Clay, Cache Valley, Breakstone's Butter, and Borden Cheese.
Intriguingly, most of these brands source their ingredients from farms in the area that they serve.
FAQs
What is the biggest cattle ranch in the world?
At a whopping 14,000 square miles (or 8,960,000 acres), the Anna Creek Station cattle ranch is the world's largest and biggest cattle ranch in the world.
Fun fact: The Anna Creek Station cattle ranch has been around since 1863 and has about 10,000 cattle!
Who is the richest rancher in America?
The richest rancher in America is John Malone. He is a media tycoon who also happens to be the largest private landowner in the United States.
As of 2022, his net worth is 9.4 Billion ($USD)
What state produces the most beef cattle?
The state that produces the most beef cattle is Texas at 4.7 million cows as of 2022, with Oklahoma taking up spot #2 at 2.2 million cows.
Who currently owns the King Ranch in Texas?
The King Ranch located in South Texas occupies 825,000 acres (1,289 square miles) and is currently privately owned by 60 descendants of Richard King who all operate as ranch managers in one capacity or another.
Richard King was the original ranch land owner of King Ranch, who made a safe investment to grow to the largest cow farm in the US.
Final words
As can be seen from this list of the biggest farms, the United States is one of the top countries producing the most agricultural gross value due to all of the big farms.
The farming industry in the US has flourished with over 2 million farms producing a multitude of diverse types of products.
If you think there are other farms that should be mentioned in this list of the largest farms in the US, please feel free to leave a comment. Thank you in advance!