Incubators can help hatch any kind of chick/duckling someone would want. Depending on how intricate you want to make your incubator it can either be an expensive or more affordable endeavor.
Believe it or not, it's actually pretty easy to learn how to make a duck egg incubator!
For this DIY incubator, you'll need a cardboard box, fish tank, or a styrofoam cooler as the base structure, a light to warm the eggs, a towel to trap warmth and humidity, and a thermometer.
That's just the first step toward hatching a duckling, continue on to learn everything you need to know about the best way to make a duck egg incubator and what to look out for when hatching a duck egg.
*This post may have affiliate links, which means I may receive commissions if you choose to purchase through links I provide (at no extra cost to you). As an Amazon Associate I earn from qualifying purchases. Please read my disclaimer for additional details.
How to Make a Duck Egg Incubator
When it comes to how to make a duck egg incubator successfully, it falls down to the materials and ability to maintain the temperature and humidity.
Here's the list of materials needed for putting together an incubator, but remember, this is just the bare bones of what you need.
You can get inventive, and find other materials and methods, as well:
Have either a cardboard box, styrofoam, fish tank, or shoebox large enough to comfortably fit all the eggs (you don't want much unused space)

A towel 

Floor padding/mesh

Small 30-40 watt bulb that can easily be adjusted for heat

Small fan to distribute heat

Thermometer

Lid
Read More: How Big is a Duck Egg? Knowing the size of duck eggs could help you determine how big your incubator needs to be!
Putting the Materials Together
Once you have the listed materials above, put everything together starting with opening up whatever incubator you chose. 
Once opened up, place the 30-40 watt bulb over the incubator as it'll provide heat for the egg or eggs.
NOTE: Make sure it's hovering above the eggs and isn't close to touching them, as this could make the environment too hot.
Place a towel inside at the bottom of the box then floor padding/mesh.
Have a thermometer and small fan on the side to check the temperature of the eggs in the incubator and distribute heat. 
Room Placement 
After creating the incubator, it's time to decide on the perfect location. 
Ideally, you would want to have the incubator in an area that you could easily check in on from time to time.
Most people would keep theirs in the kitchen as it's the easiest room to access or keep watch of.
However, there are some cons to doing so such as unexpected drafts at home, or a hazard in the kitchen if someone is cooking. 
Your experience may vary if you do set it in a kitchen, but another suggestion could be either a separate room with good ventilation or a basement if you have one. 
With all that being said, if you haven't just stumbled upon an abandoned egg or two, you're probably wondering where you could even get an egg and what to do once you create your incubator. 
Read More: How Many Eggs Do Ducks Lay Per Year? Per day? If you're thinking of raising ducks for eggs, here's how many you can expect!
Getting a Duck Egg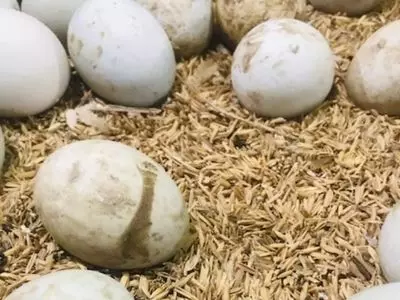 Obtaining a duck egg can be as easy as going to your local farm/breeder. 
If you don't have a local farm nearby, then another option could be to order them online, but beware, ordering online could be risky as the shipping process could damage the egg or cause it to not hatch at all. 
Egg Check
A simple yet crucial task once you obtain a duck egg is to thoroughly check to see if there are any cracks.
You wouldn't want to try and hatch an egg only to find out it's been cracked all this time. 
Before you start incubating, just be sure to candle your eggs to check for cracks and proper development.
Read our related article on How to Candle a Chicken Egg. (It's the same process with a duck egg!)
Incubator Setup 
If by chance you bought incubators for duck eggs instead of building one yourself, then it's best to follow the instruction manual that came with it. 
Here's a video that gives you an idea of a typical egg incubator setup:
If you built your own incubator, then you want to ensure it can hold or maintain the following:
Consistent Heat and Humidity

Mesh Flooring

Thermometer 

Small fan

Lid
Temperature Observation
Whether you've bought an incubator or built one yourself, the key component of hatching duck eggs is a consistent temperature. 
The incubators themselves need to be well insulated as it needs to trap and maintain heat and humidity. The best temperature for duck eggs is 99.5 degrees Fahrenheit. 
A store-bought incubator could automatically rotate the eggs but with a DIY incubator, you need to turn the eggs yourself a minimum of 5 times a day. 
The use of a fan could also be helpful with hatching an egg. A small fan helps distribute heat and keep the temperature even throughout the incubator.
Lastly, for temperature observation, it's best to find a good floor/wiring mesh since the heating element of the incubator needs to be kept separate at all times.
Doing so will help prevent the egg/chick from burning or causing the incubator to be faulty.
Hatching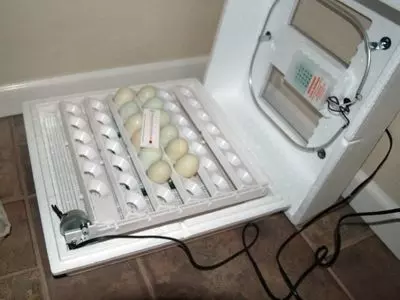 As the days of hatching approach (around day 28), be sure to observe the eggs closely to know if they are hatching correctly. 
Development: Days 1-9
A few days into incubation, development should begin with veining, and by the tenth day, you will see a developing embryo.
This is the perfect time to begin candling your egg. 
If you notice a red spot around the egg in a ring-like shape, you'll need to remove it from the clutch as it indicates the egg is tainted with bacteria and is contaminated.
Development: Days 10-25
Between days 10 and 25, take the lid off for about 30 minutes then start to mist the egg with lukewarm water.
Doing so will help with humidity, which helps with the hatching as it cools the eggshell temperature.
By day 25 take one last check to make sure the eggs aren't visibly damaged with cracks or possibly being contaminated. 
If all is well, keep the lid on the incubator closed as leaving it open could possibly cause issues with temperature or humidity, therefore, causing issues with hatching. 
Hatching: Day 28
By day 28, you'll notice cracks in the shell as it seems the duck is ready to break free. 
However, do not try to assist the ducklings in any capacity as helping them could do more harm than good. 
Breaking free could range from an hour to 12 hours. If they're not out within 48 hours, something may have gone wrong. 
Again if all is well, and the ducklings have hatched, then it's a good indicator that you have a successful duck egg incubator and that your ducks may be healthy enough to live a long and ducky life.
Read our related article, How Do You Incubate a Duck Egg You Found? for a more exhaustive guide to duck incubation.
FAQ
What's the Best Way to Hatch a Duck Egg?
Place eggs in the incubator with the pointy end facing down along with making sure the incubator is out of direct sunlight. Keep the temperature and humidity where it needs to be and follow our steps on the process throughout the 28 days. 
What Incubator is Best for Duck Eggs?
Any DIY incubator is fine such as a shoebox, cardboard box, fish tank, or styrofoam cooler will work. You can also buy an incubator online as these will typically have an automatic temperature and humidity leveling system.
What Temperature Does an Incubator Need to Be for Duck Eggs?
The temperature may fluctuate throughout the process, but the standard temp is 99.5 F.
How Can I Make a Simple Incubator at Home?
Anything with a box that has at least a lid along with a flat bottom surface can be made as a simple incubator at home.
Can I Incubate Duck Eggs Without an Incubator?
Yes, you would need to provide consistent heat such as a heating pad for the duck eggs or a nest with a substitute hen. However, the heating pad method can cause problems for novices if it isn't maintained properly.
Read our related article on How to Incubate an Egg Without an Incubator for more details!
Conclusion
Having a duck egg incubator is a large investment of time, but if you stick with it, then you'll see that it's worth the work. 
With a few easy-to-find items you can set up your incubator and effectively incubate your duck eggs with success. 
Just be sure to keep track of the progress of your eggs and see where you can make improvements in temperature and humidity control, if necessary.
With all that being said, we hope this helped you to figure out how to make a duck egg incubator!