Investing in a reliable farm security camera system is essential for farmers, as it helps them deter potential risks of invasions and keeps their property secure.
High-quality security cameras should have a clear picture, helping farm owners identify criminals' facial features or their vehicles' details.
In this post, we review the top 7 best farm security systems and provide suggestions and answer some questions about what you should look for in a security system for your farm.
*This post may have affiliate links, which means I may receive commissions if you choose to purchase through links I provide (at no extra cost to you). As an Amazon Associate I earn from qualifying purchases. Please read my disclaimer for additional details.
7 Best Farm Security Camera Systems 2022 Snapshot
In-depth Top 7  Farm Security Camera Systems
Alert type: Motion only
Power source: Battery powered, Solar powered
Mounting type: Wall mount
Night vision range: 33 feet
Video resolution: 1080p
Google Assistant Support
Keep your eyes everywhere on your farm with this camera model from Reolink.
Setup and installation are pretty straightforward.
After downloading the app, creating an account takes you less than two minutes, then follow the instructions shown on the screen to get it connected to Wi-Fi, and you're good to go.
A rechargeable camera like this Argus 2 sets you free from wiring and the hassles of finding nearby power outlets.
Better yet, it is also equipped with a solar panel, meaning the battery can be charged up to 100%.
These flexible powering options allow you to place the camera anywhere in your farmland and get non-stop power 24/7 as long as it is within your Wi-Fi range.
Last but not least, you can always maximize sunlight exposure by simply re-positioning the solar panel.
Plus, it is a waterproof camera and regardless of any weather conditions, the Argus 2 never fails to perform its best, making it the best camera for farm security.
Pros
Cons

Easy to set up
Reasonable price
Have the solar capacity to monitor remote locations
Two-way audio communication
1080p resolution

The motion detection is not adjustable
Night vision is not very good
Solar panels require direct sunlight and long wires

Specs:
Video resolution: 3.0MP (1.5 times clearer than 1080p)
Night vision range: 65 feet
Power source: Corded electric
Alert type: Audio and Motion
Setting up this Hiseeu camera was a breeze and should take you less than 30 minutes only. Thanks to the 2304 x 1296 MP, its picture quality is unsurpassed.
More importantly, with a nighttime vision of 65 ft and the 3-array IR LED lamp, it provides extended coverage, even in darkness.
This corded security camera allows you to view live videos anywhere on your phone (by downloading the app "EseeCloud"). Plus, its 1TB hard drive provides abundant video storage space for up to one month.
Pros
Cons

Installation is straightforward
The motion detection works very well
2K Ultra-HD picture quality
Night vision: 65 ft.

The app has limited functionality
Online access through smart devices is slow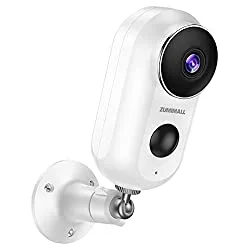 Specs:
Video resolution: 1080p
Power source: Battery powered
Alert type: Audio and Motion
Compatible with: 2.4G wifi
Detecting motion range: 32 feet
Are you looking for affordable security camera systems for farms? If yes, do not ignore the Zumimall camera kit.
This 1080p camera is reasonably-priced, yet offers crystal clear recordings with 130-degree viewing angles.
Its accurate censor is what makes this camera stand out from others on the market.
With three modes: low, medium, and high, it gives you the versatility to set sensitivity based on your preferences.
When it's in high mode, it alerts you even when a small bug passes by, so medium mode would probably be the best choice for both day and night time.
Pros
Cons

The picture quality is super clear
Well-built magnetic mount
Low power consumption
Switching between different monitoring devices is easy
Good value for money

Difficult to identify motion sensitivity zones
The app is not user-friendly
#4 Best Outdoor Security Camera For Farm: ieGeek ZS-GX2S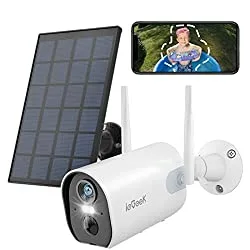 Specs:
Alert type: Motion only
Power source: Battery power, Solar power
Video resolution: 1080p
Night vision range: 84 feet
Only support: 2.4G wifi
With a sealed and robust design, this camera is capable of rebelling dust or water and withstanding harsh temperatures (-13°F to 140°F), making it the best outdoor security camera for your farm.
Save your energy consumption with this solar-powered camera. Packed with 15000 mAh rechargeable batteries, this IeGeek camera gives you an uninterrupted power supply.
In addition, its solar panel can fully charge the batteries in about three sunny days – this long standby time sets you free from the hassles of bringing the camera down for frequent manual charging.
Pros
Cons

Eternal power supplies thanks to solar panel
Minimal mounting installation required
Excellent night sight (up to 65ft)
Four infrared lights to automatic sensor

Inconsistent notifications
Motion detection is slow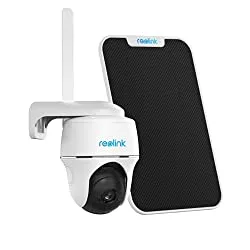 Specs:
Alert type: Motion only
Power source: Battery, Solar
Video resolution: 1080p
Support: 4G/LTE
2-way audio
Protecting your farm's valuable assets is no longer an uphill task once you equip yourself with this smart and modern security camera system.
It allows for a horizontal rotation of 355°and vertical rotation of 140° with no blind spots, providing expanded coverage of your ranch.
If your farmland is large or in outlying areas, you're probably looking for a farm security camera without wifi.
This is where the Reolink Go PT comes in as an ideal choice.
As the name suggests, it is compatible with 3G/4G LTE connectivity from T-Mobile, US Mobile, AT&T, or Cellular One if you are in the states.
If you are in the EU, it also works with other carriers like Vodafone, O2, or Orange, to name a few.
This camera system provides sharp and crisp image quality both day and night time, thanks to the starlight CMOS sensor.
With a supplied wall mount and screws, it can be easily mounted on the fences or trees of your farm. Adjusting angles is a no-brainer as the mount can be tilted 90 degrees.
Pros
Cons

Outstanding video quality day and night
The app works perfectly well for remote control
Impressive motion detection
The sound of both alarm and speaker is not loud

Pan and tilt features are slow
Only compatible with a few carriers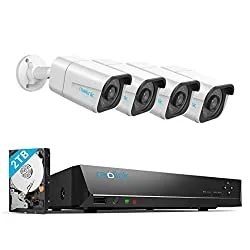 Specs:
Alert type: Email Alerts, Push notifications, Motion Only
Power source: Corded electric
Video resolution: 8MP, 4K, 3840 x 2160 MP
Pre-installed 2TB HDD
The RLK8-800B4 is one of the best security systems for remote locations.
By downloading the free Reolink App on your smart device, you can access this camera remotely wherever and whenever you want.
What I like most about this Reolink model is that it is equipped with 4K image quality (8MP, 3840 x 2160), surpassing others with a clarity of only 1080p.
There is no more ambiguity in playback video footage or image distortion, as this security camera can sharply display the smallest details, even when closely zoomed in.
With powerful infrared LED lights, the system produces clear night vision as far as 100 feet, making it such a long-range farm security camera.
It is also fitted out with the 3D-DNR (Digital Noise Reduction) technology that effectively brings down noise levels, giving you clear and smooth night-time performance.
Pros
Cons

4K Ultra HD for optimum image quality both day and night
Smart geofencing and sensitive motion detection alerts
Multi-screen live streaming for a wide coverage of your area
Low noise levels thanks to 3D-DNR technology

Overly sensitive motion detection provides false alarms
Users manual could go into more details for customers' usability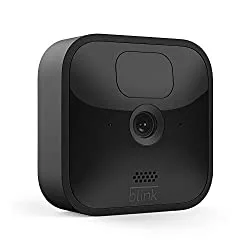 Specs:
Power source: Battery
Video resolution: 1080p
Support: 2.4G wifi
2-way audio recording
Blink Outdoor is designed for those who want a compact, affordable yet powerful camera with impressive battery life.
Now you're probably wondering if such a budget-friendly camera kit can help you monitor your property. Fret not! Despite its affordability, the Blink camera produces crystal-clear video and audio recordings.
Furthermore, its motion detection never misses anything as long as you set up your exclusion zones correctly. Given this, no worries about false alarms.
This Blink camera is powered by two AA batteries claimed to last for two years. When you need to replace them, simply loosen the screw on the camera's back and pop the cover off.
Pros
Cons

Low price point
Setup and connectivity are straightforward.
Sharp 1080p HD resolution both in daylight and night vision
Two-way speaker system
Detection is almost instantaneous

Motion sensitivity is hard to adjust
2-way communication does not work due to image lag
Night vision is not very good
FAQs about Farm Security Camera
1. What's the difference between surveillance cameras and security cameras?
The main difference between surveillance cameras and security cameras is their usage and how they operate.
Security cameras, or CCTV cameras, transmit data from one particular site to a monitor located at a distance.
They are ideal to prevent a crime from occurring in the first place as they can alert the authorities at that exact moment.
On the other hand, surveillance cameras employ IP networks to connect the cameras from a remote point to the designated secure location.
They are highly effective for discovering, recording, and discouraging any undesired behavior, but they require continual monitoring from a person in order to take prompt action.
2. Is it better to have wired or wireless security cameras?
Both wired and wireless security cameras have their unique strengths and weaknesses. However, in terms of safety and privacy protection, I recommend you choose the wired ones.
With a wired camera, you can ascertain that your footage is safe provided you have the proper storage.
Unlike wireless ones, wired cameras do not need a wireless signal to relay surveillance footage. As long as you have connected the wires to the recording hub, the video feed will be safe regardless of the distance.
3. Can wired security cameras be hacked?
Unfortunately, wired security cameras can be hacked. These cameras are linked to an NVR or DVR box for the internet and footage.
Nevertheless, many firewalls cannot prevent the risk of getting hacked for your camera. Even with passwords, hackers can still find ways to surpass them and hack your camera.
4. Can you have a security camera without WIFI?
Although options for security cameras without WIFI are limited, they are still available.
There are also additional alternatives for connecting your security system to cameras that are not WIFI-enabled. Various sorts of security cameras can provide video footage, including ones that can be plugged into a home.
However, a security camera without WIFI has certain drawbacks that need to be thoroughly considered if you are planning to buy one.
It takes more effort to install.
It might not provide live footage remotely. Owners can only review the video footage as a recap after hours.
There will be a lot of wires around the house because wires are needed to connect the camera to other parts of the system.
My Top Pick
These days, staying informed when intrusions or invasions happen has become a manageable task.
We hope our review has provided farm owners with helpful insights on the best farm security camera system for your farm.
In case you haven't decided on which one to purchase, we believe the Reolink Argus 2 Solar Panel is the best model. It perfectly combines decent video and audio quality with a solar panel in an affordable camera.